'THE NEW ALBUM'
"The Call Of The Wild"

Here is the full track listing for the European version of "Calling The Wild":

Kiss Me Like A Cobra

Dedication

Burn It Up

Give Me Your Reason

Who You Love

Scarred

Ich Will Alles

White Wedding

I Wanna Live

Love Me Forever

Fuel

Constant Danger

Black Rose

Now Or Never

Danke

Alone Again (bonus track, limited edition)

I Want More (bonus track limited edition).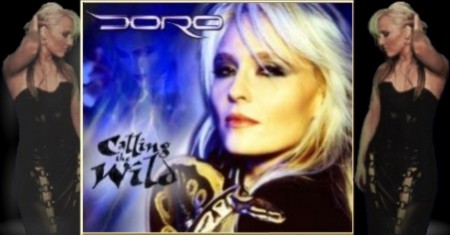 'INCLUDES A REMAKE OF BILLY IDOL'S "WHITE WEDDING"

New Jersey

March Metal Meltdown

Pennsauken, N.J.

Metal queen, Doro Pesch and her band Doro stormed the stage at the Jersey Metal< Meltdown shaking the rafters with their frantic blend of molten metal. One of the most anticipated acts of the two-day festival, Doro met the masses with a barrage of lethal mastery nailing all the hits. They were, without a doubt, the dominating force of the show. It has been almost ten yeas since Doro last played North America and the crowd*s response let the band know they wanted them backÑoften. ÊWhen I first came to this country, I was on tour with Judas Priest and couldn*t speak a word of English,î says Germany native Doro Pesch. ÊIt*s good to be back and playing for America.î In 1982 Pesch formed the Thrash Metal band Warlock in Dusseldorf, Germany. The band achieved a cult following in Europe and then broke BIG in the states with their album Triumph & Agony (1987). Pesch left the band to pursue a solo career which included working with producer/Kiss bassist Gene Simmons. Doro (this recent incarnation of the band) has been together since 1997 and is primed to make their mark. ÊWe have a new album coming out in America on Koch records,î mentions Pesch. ÊIt will be our first in the states in a while. We want to tour playing Warlock songs mixed with what I*ve done in Doro.î Pesch is working with Lemmy (Motorhead) in LA on a duet for the new release titled I Give My Blood. Five of Doro*s finished tracks were made available to TCE. All were stunning including Kiss Me Like A Cobra and a blistering rendition of the classic Billy Idol tune White Wedding.

Doro Pesch Gets Wild

Frank Meyer, Managing Editor
Wednesday, July 12, 2000 04:37 PM
Ex-Warlock Singer To Release First Album In U.S. In Over 10 Years!

Having been out of the U.S. music spotlight for over a decade, German rock icon Doro Pesch has returned to show America what's been missing in the current state of hard rock! After captivating & enchanting the audience at this year's March Metal Meltdown in New Jersey, Doro is preparing to unleash a new album through KOCH Records (set for release on September 12th) that will re-position her name to true rock regality. Although she has kept musically active in Europe over the years, this will be her first US release since 1990's self-titled release. Former vocalist for '80s Metal giants Warlock, Doro felt the need to break away from the "sword & sorcery" stigma that surrounded the band and spread her wings to focus on a more emotional & personal sound. As a solo artist, she has in excess of eight releases to her credit and has achieved worldwide success. Now it is time for her to re-establish herself on American shores, and in order to achieve this goal, she is prepared to release a very memorable album. Not a woman to pull any punches, Doro enlisted the assistance of some very noteworthy musicians to compose this magnum opus! She recently teamed up with Motorhead frontman Lemmy Kilmister in Los Angeles to re-record the Motorhead track, "Love Me Forever" in pure, emotive Doro fashion. The song originally appeared on Motorhead's album 1916. This collaboration also spawned a new track, another duet called "Alone Again." Both songs will appear on her new album, which is now titled Calling The Wild.


Electric Basement Review_on line


DORO - Calling the Wild
(Koch Records)
http://www.doro.de
By Brian Coles

Metal has been tough on the female. I betcha 98% of the people reading this review couldn't name 5 females who have had some sort of recognition as a metal act. Okay, we have Lita Ford...uh....Joan Jett (early years) and uhhh....Vixen? Huh? Oh, we have that freaky lookin' Great Kat chick you see in guitar magazines. But thems all small potatoes (don't even email me claiming a pun was found here!) compared to the metal queen herself, Doro Pesch. To be fair to the genre, its tough for a female to get up there and battle through the testosterone without looking like a circus act. And this is only the fault of record companies and bullshit acts trying to turn a few bucks on the "girl metal goddess" novelty. The truth is, Doro Pesch is an extraordinary example of a female powerhouse who belongs very much in the metal kingdom (Queendom?) while not sacrificing her femininity the least bit. Her voice, as magical as her goth imagery circa Warlock (her 80s outfit), is almost otherworldly, yet alluring and human within the same breath. In fact, it could be argued that her ability to slither back and forth between aggression and vulnerability adds a dimension to her art that few male vocalists can achieve. This added complexity makes her all the more mysterious and compelling. Calling the Wild is her first U.S. release in ages. And while it isn't exactly the power metal of her Warlock years, it isn't an offense to the traditional metalist, as long as a pinch of leeway is allowed on the occasional drum machine (gasp!). But fret not, this isn't a new Scorpions album! No, indeed we have a semi-modern goth metal rumbler and tumbler with many pleasant surprises. Doro's powerful, leather-throated range kicks into gear with "Terrorvision", a thick, mobile sludge piece with a catchy pre-chorus vocal setup and delivery that assures us Doro is ready to kick it with no prisoners taken. "Now or Never" comes the closest to her power metal years, causing sideways head banging and bionic stomps for the new millenium. The impressive qualities continue with two duets, both with the antithesis to Pesch....Lemmy Kilmister. A redone version of "Love me Forever" is pretty cool, except Lemmy almost steals the show. This guy can really deliver soulful ballads whether you like it or not. "Alone Again", not the Dokken ballad, is haunting and the very definition of gorgeous. Damn, this album grows on me more as I type this. Pure fact is that Doro's voice sounds so killer, its hard to tell whether she's lifting the material up or is simply accenting what is already amazing. She also does a metal version of Billy Idol's "White Wedding." While I never cared much for the original, she does it over well. Not a bad choice on the album. Welcome back Doro! Hopefully, a new generation of female AND MALE vocalists will find your many talents inspirational.